Over the next two weeks, this hub page will grow as we add more BlizzCon 2011 updates. This is a transcript archive to read the BlizzCon 2011 panels. There were around 20 panels led by Blizzard Entertainment developers covering World of Warcraft: Mists of Pandaria, StarCraft II: Heart of the Swarm and Diablo III.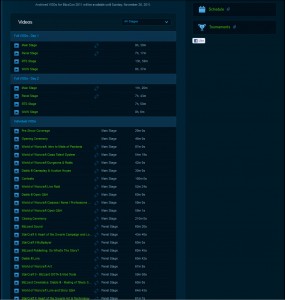 Those who wish to can still order the BlizzCon Ticket Livestream at the official BlizzCon website. All VODs will be available for view until November 20th, 2011. Additional links: Blizzard, BlizzCon Homepage, BlizzCon Twitter.

Blizzplanet Articles
World of Warcraft: Mists of Pandaria – Press Kit
This section gathers all the material Blizzard Entertainment provided Blizzplanet network manager Eldorian at the BlizzCon 2011 Press Room.
World of Warcraft: Intro to Mists of Pandaria
Browse through the Transcript Archive of each panel.
World of Warcraft: Mists of Pandaria Class Talent Panel
Dungeons & Raids Panel

Diablo III – Press Kit
Diablo III – Panels

StarCraft II Press Kit
StarCraft II: Heart of the Swarm – Panels
Browse through the transcript archive of each panel. (coming soon)