DC Comics and Blizzard Entertainment will launch the long-awaited World of Warcraft: Dark Riders
on May 7, 2013. Pre-order now to get a 40% discount (Price: $15.10). Free shipping option available on $25+ orders.
The graphic novel was revealed at a Blizzard Entertainment Publishing Panel held at the 2011 San Diego Comic Con. Watch the panel video and transcript here.
World of Warcraft: Dark Riders (Graphic Novel)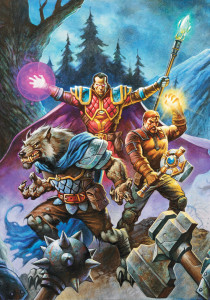 A brand-new original graphic novel featuring characters from the bestselling video game franchise, World of Warcraft!
In this new, original WORLD OF WARCRAFT graphic novel, a stalwart mage searches for a powerful artifact, stolen by Dark Riders, only to find his son accused of murder. A righteous priest, driven by a mysterious fervor, investigates a savage Wolf Cult. As the paths of these two men join, a fantastic adventure emerges! Supported by a cast of brave heroes, the two find out just how dangerous the wolf cult and dark riders are.
Written by: Michael Costa
Art by: Neil Googe
Cover by: Samwise Didier & Alex Horley
Page Count: 144
U.S. Price: $24.99
On Sale Date: May 7, 2013