Blizzard Entertainment released a FREE comic book titled StarCraft II: Heart of the Swarm – Kerrigan: Hope and Vengeance # 0.
I think I have never seen Blizzard post a comic book # 0 before just days before a video game or expansion. I personally like this type of bonus material meant to tease us, and to inform us fans of a depth story surrounding the initial mission and cutscenes in the upcoming expansion.
The comic book is written by Cameron Dayton (Story Developer, Writer, and Transmedia Strategist) and penciled by Zoddd.
Download the FREE Comics
Download the FREE StarCraft II: Heart of the Swarm – Kerrigan: Hope and Vengeance # 0 from your favorite digital book source:
In Amazon if you have an account there. If you don't have Kindle, just select Kindle Cloud to read it on your internet browser. The Comics is Free.
In Comixology you can read the comics on your tablet, smartphone or on your internet browser (PC/Mac). Requires a comixology account registration. Add to cart. Check out, then choose your platform.
Review
The FREE comic book only contains 8-pages, and this is definitely somehow tied with Chris Metzen & Flint Dille's experimental format with IDW Transformers: Autocracy
— published as an 8-page digital comics every two weeks. A year later, the comics was published as a Trade Paper Back (TPB) in Hardcover format. Both authors are currently publishing the continuation to Autocracy … Transformers: Monstruosity (# 1-12) launched on March 1.
My question to ponder here is whether this StarCraft II FREE comics is a one-shot # 0, or if this #0 means we might see soon an ongoing series. The first time I ever saw a #0 comics from Blizzard Entertainment, DC Comics had launched the World of Warcraft ongoing comics which lasted a whooping 25 issues.
I don't know any information about an ongoing StarCraft II: Heart of the Swarm comics. I do know the StarCraft II graphic novel by Transformers fame writer Simon Furman and published by DC Comics is in production with no ETA.
That aside, this Kerrigan: Hope and Vengeance # 0 story is written by Blizzard Entertainment Transmedia and story writer Cameron Dayton — who is involved in the Project Blackstone. He's brought several great stories on twitter, and on the StarCraft II website's Short Stories.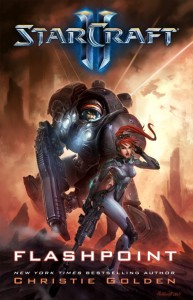 In this #0 comics, we see Sarah Kerrigan right after the final page of StarCraft II: Flashpoint
. I can't stress this enough. Please read this novel by New York Times bestselling author Christie Golden. It's a heavy-hit in the Starcraft storyline.
Following continuity with StarCraft II: Flashpoint, Kerrigan is studied in an orbital platform's lab somewhere in the Umojan Protectorate. It's been 16 days since Sarah entered the lab chamber. Prince Valerian Mengsk is overseeing the progress. Many assistants have died tending to Sarah during her comatose stay in the lab.
Her brain activity has been almost non-existent, when suddenly a surge of memories go through her mind spiking computer sensors.
We see some flashbacks of Sarah's past as a child, and as a teen. Some of these are likely in continuity with StarCraft: Uprising by Micky Neilson and the scene in the comic showing Sarah and Jim Raynor might be a flashback seen in StarCraft II: Flashpoint.
I find it intriguing that Kerrigan can read Valerian's thoughts when she wakes up. One would guess Valerian uses psi-screens to prevent telepaths from reading him, but either he doesn't use them or Kerrigan's powerset is high enough to bypass even psi-screens? I don't know.
I can say that reading these 8-pages itched something in my mind. StarCraft II: Heart of the Swarm is in my hands in six days, March 12th. And you bet I'll be playing through the single-player campaign to learn more about Sarah and the overall story in this second episode.
Yet, I am craving for more StarCraft comics. I love Blizzard's storytelling. I like my monthly fix of Warcraft, StarCraft or Diablo — thus, this 8-page format is very welcome because it doesn't take too much out of the writer and artists to pump out material, as a full comics or a graphic novel would.
I'll rather wait 30 days for my next 8-pages, than to wait a year or two for a graphic novel. I'd get the graphic novel too, however, don't get me wrong. Bottomline: Blizzard, give me my bi-weekly 8-pages fix for each franchise or why not, several stories. I don't mind.
One thing for sharp-eyed fans … notice there is no DC Comics logo in this # 0 comics? It was published by Blizzard Entertainment, brewed in-house by the Creative Team and Publishing Team. Is this the harbinger of more juicy and lovely Blizzard Entertainment-published projects? Hmm …
Checkout this excellent "Kerrigan: Hope and Vengeance # 0" comics at comixology.
UPDATE: Cameron Dayton confirmed this #0 comic is a test to probe fan response. If many fans read it, we might see many more 8-pages comics (bi-weekly) based on StarCraft II, Diablo III and World of Warcraft. Whether you are a StarCraft player or not, PLEASE, download the FREE comic today.
StarCraft II: Heart of the Swarm – Kerrigan: Hope and Vengeance # 0
No single human being has been more inseparably tied to the twisted destinies of the terran, protoss, and zerg races than Sarah Kerrigan. She has risen from the ranks of soldier and rebel to become the unstoppable Queen of Blades, supreme ruler over a race of bloodthirsty aliens. But now she has fallen from her seat of power and been taken in by those who wish to separate the woman from the monster–a task which may be more difficult than it was to dethrone her. Take a look inside the mind of one of the greatest villains in gaming history and prepare yourself for StarCraft 2: Heart of the Swarm with this explosive new comic from Blizzard Entertainment, Kerrigan: Hope and Vengeance.
Writer: Cameron Dayton
Artist: Zoddd
Cover: David Lomeli
Letterer: Clem Robins
Art Director: Doug Alexander
Editor: Micky Neilson & Cate Gary
Special thanks: Laurel Austin
Creative Direction: Chris Metzen & Brian Kindregan