Legendary Pictures announced via Twitter the following actors are part of the of Warcraft film casting crew: Ben Foster, Travis Fimmel, Paula Patton, Toby Kebbell and Rob Kazinsky.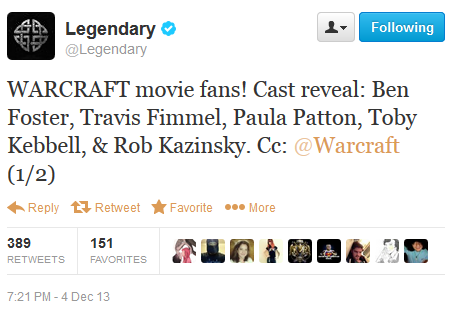 Ben Foster is known as Angel/Warren Worthington III in X-Men: The Last Stand.
Travis Fimmel is known in The Vikings (TV series)
Paula Patton is known as Jane Carter in Mission: Impossible – Ghost Protocol.
Toby Kebbell was in Wrath of the Titans, and The Sorcerer's Apprentice.
Rob Kazinsky was in the HBO vampire TV series titled TrueBlood and Pacific Rim.
Missed the Warcraft Movie Presentation Panel in the BlizzCon 2013 livestream? Read our transcript here.