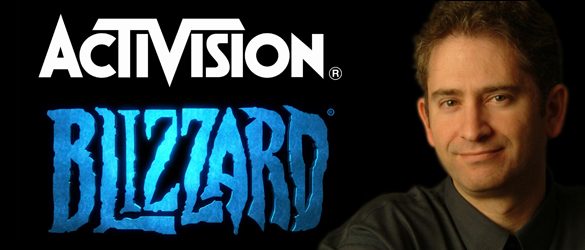 The Activision Blizzard Q1 2012 financial results conference call took place on May 8 at 1:30pm PST. Mike Morhaime discussed the latest progress with all Blizzard Entertainment's upcoming projects.
Michael Morhaime
2012 is already shaping up to be a busy an exciting year at Blizzard, as we're poised to deliver fresh content to our players in all 4, all of our major franchises. I'll begin discussing our franchise updates with World of Warcraft.
At the end of Q1, global subscribership for World of Warcraft remained at 10.2 million. Maintaining our subscriber levels puts us in a great position as we drive toward the launch of Mists of Pandaria later this year. We opened the beta in late March and have rapidly expanded testing through a good portion of our community, including the 1.2 million players who signed up for the World of Warcraft Annual Pass.
That program closed at the end of April and was very successful. Thus far, the feedback we've collected from the Mists of Pandaria beta tests have been great and development continues to move with a good pace as we open up more of the expansion content to players.
Mists of Pandaria will offer a brand-new continent to explore, a new player class, the monk, and more importantly, new game modes that will help World of Warcraft continue to engage its diverse audience. Scenarios will offer for a more relaxed way of playing at a group that's less structured than traditional dungeons.
Challenge modes will give hard-core players and guilds new ways to compete with each other while earning cool rewards. And the pet battle system will offer players a light-hearted diversion from regular questing, vengeance, PvP.
On the Diablo front, we are less than a week away from launching. In preparation, we recently conducted an open beta stress test for Diablo III where anyone could download and try out the game. Response we got was huge with more than 2 million people worldwide participating in the open beta.
All the testing we've done over the past several months has been critical for us in polishing and preparing Diablo III for launch, particularly in the case with the auction house feature. We believe that having this convenient method for item trading integrated within the game will enhance the overall player experience.
Now all that's left is to get the game into the hands of our players. Official midnight launch events for Diablo III have been announced for locations around the world, including the United States, Europe, Korea, Taiwan and Southeast Asia.
More than 8,000 retail locations across North America and Europe will also be open at midnight to celebrate the launch. Our players are clearly excited about Diablo III as it's already set a Blizzard record for pre-orders, including those who signed up for the Annual Pass.
We look forward to providing a more definite sales update in the coming weeks. Most importantly, I'm proud of all the hard work that the team has put into Diablo III. This game has been a long time in the making, and our community has been supportive of us every step of the way. I'm confident that their patience will be rewarded next week when we launch our best Diablo game yet.
Meanwhile, the StarCraft 2 development team continues to forge ahead. The team has begun early testing on the arcade update that will make big improvements to the custom game experience on Battle.net. In fact, the team is already working with map creators in the StarCraft 2 community to update their maps and take full advantage of the new functionality.
We're aiming to make the new arcade system live in the next coming months.
In addition to the work being done on arcade, development on Heart of the Swarm is going very well. Just a few weeks ago, we announced that we would offer a beta sneak peak of Heart of the Swarm to attend the use of Major League Gaming Spring Championship.
The event will take place at Anaheim Convention Center from June 8 to June 10. It won't be too long after the MLG tournament that we'll be ready to announce plans for our beta.
We'll also be running our own U.S.A. national finals for our own StarCraft dual championship series event at the same event. This is just one of the many such events that we're running with partners in countries around the world. Our goal is to identify and foster local heroes in various countries and have them compete in the StarCraft II global finals.
New developments from Korea also bode well for StarCraft II eSports. Just last week, we announced partnerships with the Korean eSports Association and OnGameNet, the cable television station, to create new StarCraft 2 leagues in Korea.
These new leagues will complement GOMTV's successful global StarCraft II league, providing viewers with even more options for StarCraft II eSports. This news has created tremendous excitement in the StarCraft community as many of the popular pro-gamers from StarCraft I are preparing to compete in StarCraft II.
As I mentioned earlier, 2012 is already a busy year at Blizzard. With Diablo III launching next week, Mists of Pandaria well into beta testing and Heart of the Swarm close to beta, we are well positioned to deliver multiple titles in the coming year, which means Battle.net is going to be an even more exciting place to be for online gamers.