Danny Perschonok attended the Blizzard panel held at Wyrd Con 2013 in Costa Mesa, CA to record video for our StarCraft II fans. The panel was held by Micky Neilson (Lead Publishing) and Cameron Dayton (former Transmedia Specialist and Senior Story Developer) to discuss the conceptualization, development and logistics behind Project Blackstone.
Project Blackstone: The Great Transmedia Experiment Panel
The ambitious goal of Project Blackstone was to weave a narrative across multiple media, draw traffic to the StarCraft website, raise awareness of StarCraft short stories, and build hype for Blizzard Entertainment's StarCraft II: Heart of the Swarm video game. The experiment was a success on many fronts, and Project Blackstone: the Great Transmedia Experiment will be an opportunity for the creators of Project Blackstone to share their insights, war stories, and opinions on what transmedia really means, and where it's headed in the future.
The Panelists included the following Blizzard Entertainment story developers:
Micky Neilson (Publishing Lead, Blizzard Entertainment)
Matt Burns (Associate Story Developer, Blizzard Entertainment)
Robert Brooks (Story Developer)
Justin Parker (Historian, Blizzard Entertainment)
Cynthia Hall (Creative Development, Blizzard Entertainment)
Cameron Dayton (Creative Director, E-Line Media)
Note: The 1-hour panel playlist will auto-play. Let all four videos load. 1080HD available.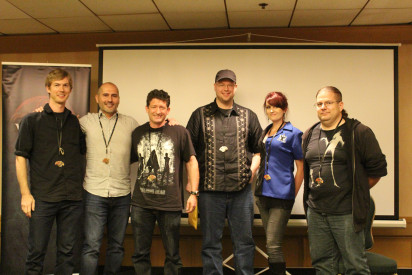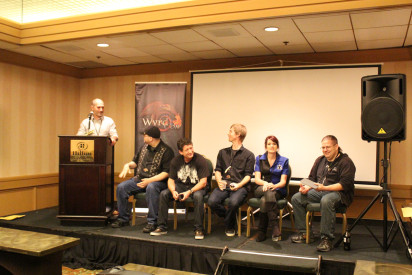 About Wyrd Con:
Wyrd Con is a live event in Southern California, running from September 12 through September 15, 2013. This unique gathering of storytellers presents an opportunity to participate in Live Action Role Playing, delving into the wild ride of Augmented Reality Gaming, and learning about the cross-platform realm of transmedia.
Since 2010, Wyrd Con has proven to be a fun and educational gathering. This unique convention is now at a point where the initial vision can be realized with your support. The realm of interactive storytelling is a powerful way to expand the knowledge of the day-to-day world and the understanding that our world view is only limited by our imagination.
Wyrd Con has brought together three communities that usually exist independently of each other. Not unlike the three witches in Shakespeare's Macbeth, Wyrd Con calls in the Three Powers of Interactive Storytelling: Live Action Role Playing (LARP); Augmented Reality Gaming (ARG) and Transmedia. With a few magic words spoken, we watch as it boils and bubbles into an experience that is greater than the sum of its parts.
Wyrd Con is four days and three nights of total immersion into the depths of your imagination. Take on your greatest fantasies, experience different social roles, learn to be a powerful leader, and realize what it means to follow your heart. How you choose to mix these together is your decision, and that is the power of Wyrd Con.