Update: April Fools' Day – April 1, 2014
However, a real Yrel short-story may be in the works
@Blizzplanetcom @TheRedShirtGuy @Loreology We do have a great idea for one.

— Micky Neilson (@MickyNeilson) April 2, 2014
I've been waiting quite a while for the NDA to wear off on this. I am proud to announce, in a BlizzPlanet Exclusive, the next World of Warcraft novel, World of Warcraft: Yrel: Heart of Draenor! Just as World of Warcraft: Vol'jin: Shadows of the Horde had a writer new to the Warcraft franchise behind it, so will Heart of Dreanor: the famous Tara Gilesbie!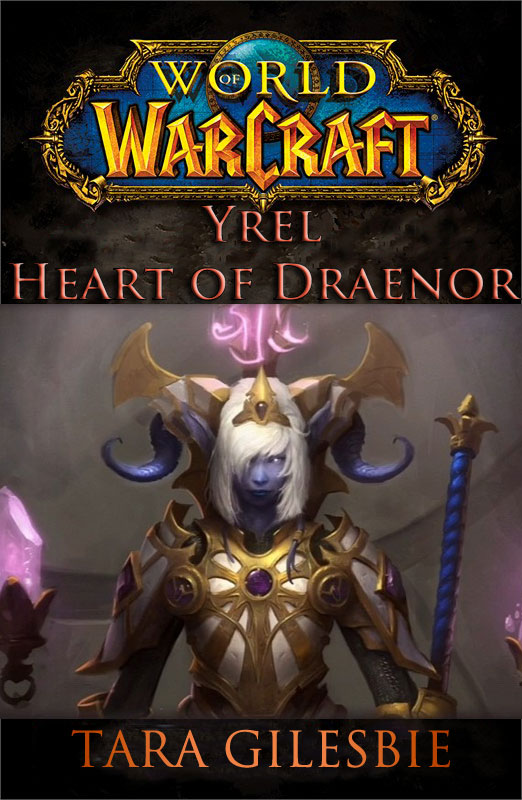 In the press details I was given by Micky Neilson, Lead Story Developer for Blizzard Entertainment, he explained this novel will bridge the gap between Mists of Pandaria and Warlords of Draenor by giving readers a look into one of the expansion's lead characters, Yrel. The story will chronicle Yrel's journey from a simple priestess at Karabor, to her witnessing the formation of the Iron Horde, ultimately leading to her first encounter with the player character (done similarly in Jaina Proudmoore: Tides of War).
"We are incredibly excited to be working with Ms. Gilesbie," Micky said in regards to the upcoming novel. He also mentioned we may be seeing a forbidden romance in Yrel's adventures which will heavily affect her role in Warlords of Draenor.
He also clarified that, following another of Shadow of the Horde's traditions, Heart of Draenor will be a darker and more mature fare than most Warcraft novels. Due to this, I've had to censor the excerpt provided later on in the article slightly for the BlizzPlanet readership.
"We've seen how massively popular the pairing of Jaina and Kalecgos was in Tides of War, and Thrall and Aggra presented in-game is still considered one of our best works here at Blizzard. So it was natural to have another unique and well written romance. I wont' say who catches Yrel's eye, but I'll give you a hint: his dad's the leader of the Iron Horde."
Just imagine the conflict that's going to come from that! It looks like Yrel won't just be Warcraft's Joan of Arc, but perhaps their Romeo and Julliet as well?
As for our newest Warcraft author, Tara Gilesbie is a world renowned writer who, like many in today's age, got her start on the internet. She is best known for her novella My Immortal, a Rosencrantz and Guildenstern are Dead-style take on the popular Harry Potter series of books; which chronicles Harry's adventures through the eyes of a mentally challenged vampire student attending Hogwarts. Originally published for free, the full work can be read here if you want to get a taste of Gilesbie's unique writing style before Heart of Draenor is out.
While I could not reach Tara herself, I was given this quote from her: "I m sooooo eksited to work on dis story! Fangz (geddit becuz Im Goffik) Blizzurd for givin me the change to work with u guys1"
I was also given a very short excerpt from Yrel: Heart of Draenor, detailing a scene between Yrel and her forbidden lover. As this is a spoiler, I'll leave it under the read-more.

Again, I must mention that Yrel: Heart of Draenor is being written for a more mature audience and as such I've had to censor this expert slightly so it can remain BlizzPlanet appropriate. Unlike previous Warcraft novels, Heart of Draenor appears to be written in first person, from Yrel's point of view.
Garrosh leaned in extra-close and I looked into his gothic red eyes (he was wearing color contacts) which revealed so much depressing sorrow and evilness and then suddenly I didn't feel mad anymore.

And then …………… suddenly just as I Garrosh kissed me passionately, Garrosh climbed on top of me and we started to make out keenly against a tree. He took of my top and I took of his clothes. I even took of my bra.

"WHAT THE HELL ARE YOU DOING YOU MOTHER(CENSORED)!"

It was …………………………………………………… Velen!
World of Warcraft: Yrel: Heart of Draenor is expected to be released this Fall in hardcover, audiobook, and kindle editions.